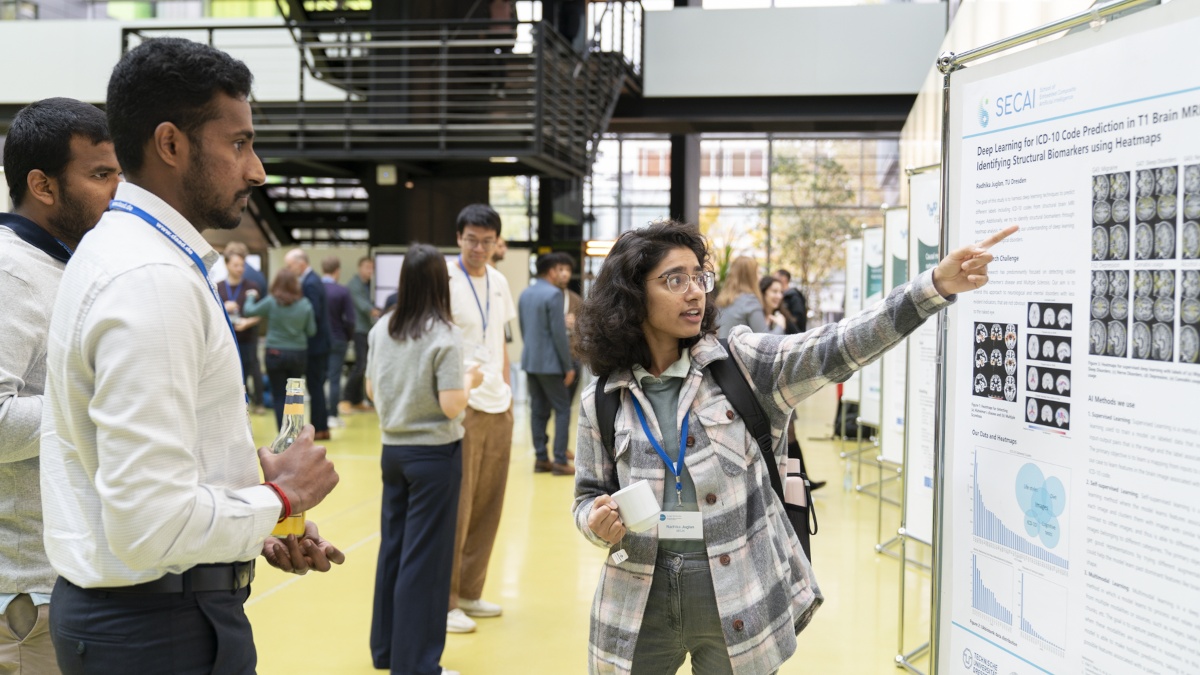 © Siegfried Michael Wagner
October 26, 2023
Celebrating Excellence in AI: DAAD Zuse Schools Come Together in Dresden
Researchers and students from leading research universities have met at TU Dresden to discuss progress in AI research and education in Germany. The event concluded the first year since the establishment of the three national DAAD Konrad Zuse Schools of Excellence in AI, set to become centres for training AI experts in Germany.
"The Konrad Zuse Schools of Excellence in Artificial Intelligence are an important step toward bringing Germany back on a par with its major international competitors in the field of artificial intelligence", Rector Staudinger stated in her opening address, "I am very pleased that TUD, together with other top universities, has been involved in this program for more than a year now and is training outstanding young AI researchers at the master's degree and doctoral level." The importance of the Zuse School program for advancing AI research and education in Germany was also emphasized by the Deputy Secretary General of the DAAD, Dr Michael Harms.
However, the event was not a mere celebration of past successes. "What we really want to achieve here is to bring people together", says SECAI Director Prof. Markus Krötzsch, "AI is moving fast, and the Zuse Schools need to work together to make sure that German AI research and university education will keep up." The Zuse Schools seem to be well on track towards this goal, as was evident from the impressive display of new research results presented during the event. Just a little over one year into the program, each of the three Zuse Schools relAI, ELIZA, and SECAI have already attracted many young talents who are on the path to becoming the much-needed next generation of AI experts.
Further highlights of the event were two inspiring keynote presentations by Stefanie Speidel and Roberto Calandra, and a panel discussion on the opportunities and challenges of "AI made in Germany", with experts Prof. Gitta Kutyniok (relAI, LMU Munich), Prof. Stefan Roth (ELIZA, TU Darmstadt), Dr Klaus Knobloch (Infineon Dresden), and Prof. Stephanie Schiedermaier (SECAI, Leipzig University). Most important, however, were the many discussions during the event. "The spirit of collaboration among the Zuse Schools is really great", says Krötzsch, "it's a very positive and inspiring environment to work in."
For the next year, each Zuse School will further expand their operations and also offer many new places in its funding programs for M.Sc. students and PhD researchers. Further information about the DAAD Zuse Schools can be found on the website of DAAD.